I had the pleasure of recording this Billy Joel song for my wife, to celebrate our 25th.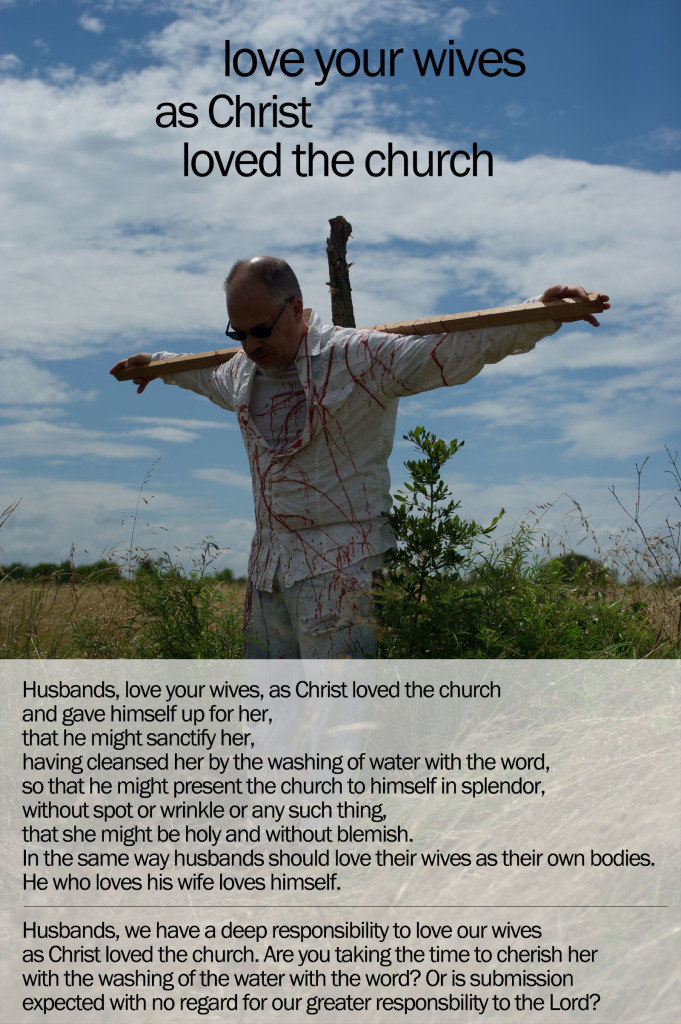 Love Your Wives
This past July we celebrated our 24th anniversary, what a joy! Yet with that joy is a deep tragedy that is painful beyond words.
I wrote a post last July (called Marriage Covenant) in honor of our 23rd anniversary, and a quote from that post rings true:
One thing that has kept us together over the years has been being able to come to that place and be open with one another, sometimes that openess is raw and hurts."
The Harder Road of Grace
As we love each other in our marriages, it can be a harder road of grace. You often come face to face with your faults and short comings as a human, and you have to continually dig deep into His love to guide you through these things. In the deeper vow we have made to one another, the model to keep your eyes on is Christ and the church. The moment anything else takes that place, that is when things slide away from truth. The truth can be very painful as we wrestle with ourselves, yet Christ calls us to be the light and the salt. Christ will also shine His light and place salt into our dark places, and we can choose to walk forward with Him, or retreat.
It's in the steps we walk forward with Him by His Spirit that He grows us in marriage, a continued reflection of Christ and the church."
I have failed along the way, and we have had to grow alot over 24 years, yet every time we fail, we choose to come together again and face the reality of our selfs, together.
Humbleness, showing up and humility can take a marriage a long way. Flowers, simple gestures of love and chocolate do not hurt either.
Everyone is Affected
We used to serve at an organization called Gospel for Asia, although we made many friends at the organization there was one couple in particular that were very special to us. The kind of special you do not find often in this lifetime. Though we weren't always together in the same location, it was as if it didn't matter.
We very much loved that couple and at the heart of the matter, we still love the individuals, yet something has changed.
When a covenant falls apart everyone in the circle is effected, we were and still are affected. It's sad that only one side of the story has been told so inaccurately, and the other side of the story has no voice at all. After all, why would you give voice to someone when you've already judged her unworthy of anything. It's easy within a gated community to shun and destroy character if you have the entire platform to willing ears under the mesmerizing spell of deceipt.
Some day the truth will be told about this, and to those wrapped up in the lie, they will keep the lie close to their deluded hearts. Others will allow truth in, and be amazed at what they allowed themselves to believe and they will be amazed at what was propagated from top down, in the name of control born out of the heart of darkness.
Reasons for a Broken Vow
It would be foolish to think one knows all the reasons why something fails, why a covenant fails or why a vow is broken, yet we do get glimpses into some of the reasons.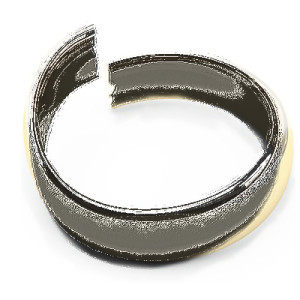 A Deeper Vow
I believe that the marriage covenant is something the Creator has ordained as an archetype of our relation to Christ. It's really quite beautiful, though corrupted in this world. I have had the blessing of so many simple yet beautiful moments with my love. Those are the ones I cherish the most, the simple ones that can't be bought or sold.
In light of a marriage covenant before the Creator, it is the deeper vow, nothing else really compares.
Celebration and Tears
So as we celebrated our 25th, the tears joined in with the joy. Tears of sorrow for a couple lost in a tragic sea. Joy in running our race with endurance, together.
Praying for These Things
As we pray for friends and pray against staged productions of deceit, I am deeply saddened by what I have seen take place, things that others wouldn't have a clue about.
Our hope and desire is that there will be healing which often comes through truthfulness. The deceit I have seen in and around these things for the past couple years unnerves me, the public deceit unnerves me and most of all the lies perpetuated to many of the unwitting unnerve me. It seems that those who take part in the staged deceit will only further crumble into deeper delusion.
Lord have mercy."
Love Your Wives as Christ loved the Church
A section of scripture that doesn't seem to get enough play, but here it is in plain sight. Can we take this to heart? It seems the tallest order of sacrifice is on us.
Husbands, love your wives, as Christ loved the church and gave himself up for her, that he might sanctify her, having cleansed her by the washing of water with the word, so that he might present the church to himself in splendor, without spot or wrinkle or any such thing, that she might be holy and without blemish. In the same way husbands should love their wives as their own bodies. He who loves his wife loves himself. For no one ever hated his own flesh, but nourishes and cherishes it, just as Christ does the church, because we are members of his body. "Therefore a man shall leave his father and mother and hold fast to his wife, and the two shall become one flesh." This mystery is profound, and I am saying that it refers to Christ and the church. However, let each one of you love his wife as himself, and let the wife see that she respects her husband.
Preeminent Vow
May our vows ring true, to who we made them to, first.
---
Here is another article on marriage that was insightful called:
17 Reflections on 17 Years of Marriage
Celebrating 23 Years, a Covenant
July 2015
This marriage covenant is not taken lightly, for out of it flows life and strength to go forward in God's will and delight."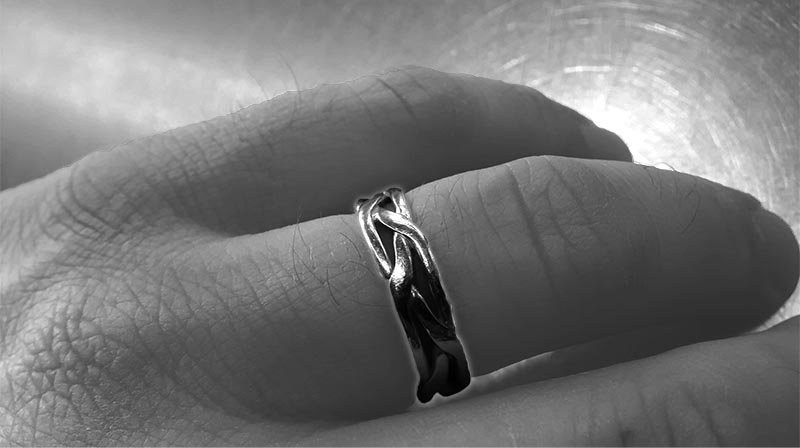 Another anniversary spent apart, whether for ministry reasons, unique circumstances, or fill in the blank. It's OK, we now celebrate twenty-three years of marital realities. Some extremely splendid times and some very challenges things to work through. As we are both saint and sinner, we are in flawed bodies, our hearts are deceptively wicked and yet we are covered in the blood of Christ, redeemed by His finished work on the cross. What a combination!
Is it any wonder that the path of marriage can be a challenge, not for the faint of heart. We know there are many paths one can take, you can be single and serve God, you can be married and serve God. The main principle in scripture is to do His will. If doing His will is to be married, then do it well, if it is to be single, then do it well.
Witness
Like anyone else, we may have witnessed a marriage crumble, we've seen many. Sadly, it often comes down to that inner self that can be so selfish, no one is immune.
St. Paul writes this in Romans: "So I find it to be a law that when I want to do right, evil lies close at hand. For I delight in the law of God, in my inner being, but I see in my members another law waging war against the law of my mind and making me captive to the law of sin that dwells in my members. Wretched man that I am! Who will deliver me from this body of death? Thanks be to God through Jesus Christ our Lord! So then, I myself serve the law of God with my mind, but with my flesh I serve the law of sin."
One thing that has kept us together over the years has been being able to come to that place and be open with one another, sometimes that openess is raw and hurts."
You heard the phrase, "don't let the sun go down on your wrath", well, "don't leave a dialogue that gets heated and uncomfortable". Early on in our marriage I wanted to flee at first argument, just let it settle back into the background. That wouldn't do, it was tough to come back and face the uncomfortable. Whatever the topic, or whatever the challenge, it takes selflessness to come to the dialogue. It's easy to walk away, it's hard to come face to face and face things.
Vows
Yet, isn't it the same with a relationship with God? If we make a covenant with God, we have entered the bond and vowed our hearts. Similarly in marriage, we chose to say vows and make a covenant before God. The pain and heartache we may suffer at times in marriage is all quickly forgotten the next time you take a simple walk, hold hands and look into each others eyes. You don't have to say a word and the sun shines in your soul.
This marriage covenant is not taken lightly, for out of it flows life and strength to go forward in God's will and delight.
I am so glad to spend these years with you, before God, under His everlasting arms. Through the scars we have brought on ourselves and the joys we have shared, I am blessed to spend this marriage season with you.
To my wife with love.