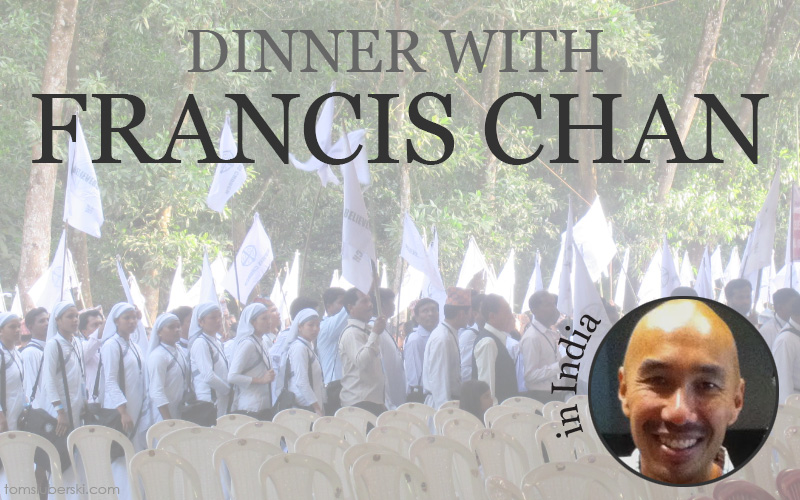 Back in January this year I finally got to go on a promised trip to India. It was quite an amazing journey on many levels, the pinnacle of that time in India was simply time with the Lord.
I got to be a part of the 2015 Believers Church General Assembly. This event was a massive undertaking to have over 6,500 believers gather from many nations and spend time together. The gathering, regardless of the denomination was amazing. A small taste of what eternity might be like.
Here I met the real deal, the missionaries, many of the missionaries had no claim to fame or fancy robes, they were guys and gals who put their life on the line, often living at a poverty level, serving the Lord and sharing God's love in hard places. In my conversations with some of them, life was not easy and finances were tough. We often have an idealistic view of mission work, yet the day to day reality is much different.
My Left Hand Didn't Know My Right
It was interesting to see Believers Church first hand, it really clicked in my head that for my twelve years at GFA I was having a part in building the infrastructure of Believers Church, and I wasn't quite aware that I was. Something changed when I walked among the missionaries and saw the new medical building Believers Church had built. All the millions of dollars in donations that came through the web site over the years was building Believers Church.
The Better Portion for Me, like Mary's Choice
On one night there was a choice to be at an extended time of prayer with KP Yohannan delivering prayer requests and exhortations for hours, or go to dinner with Francis Chan. I opted for dinner with Francis. There were many other opportunities for prayer all week and KP was sharing at other times. Also, I had listened to KP for twelve years, there was a repetitive theme in the messages that I heard many times over (suffering, loneliness, and more of his personal sufferings).
It was a treat to share this time at dinner with Francis. Who would have thought I'd be having dinner in India with Francis Chan. There is an excitement about meeting a public figure, or an author or musician for the first time, this was my first time officially meeting the author of Crazy Love. My wife and I enjoyed that book, we went through it a number of times. We have fond memories painting our old house together and listening to the audio version.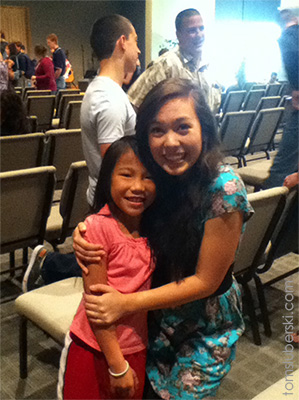 I thought it interesting that a portion of the conversation at the dinner table was about adoption. Francis shared some of what the Lord was doing in his life recently. I was amazed he was open to older child adoption, that was very encouraging to me, as we had felt led to another adoption, yet our plans were curtailed for a time. It was a nice evening, I'm glad I chose the dinner option.
The evening was casual and the folks cooking the food always wanted to accommodate us westerners, they were always so thoughtful.
The Gospel for Asia Office in Carrollton, TX
I included a couple older pictures of when Francis visited the GFA office back in Carrollton. My one daughter took a liking to one of Francis' daughters, they became quick friends as you can see from the photo, even if just for the afternoon. I think I missed the message portion at this meeting in Carrollton due to a prior engagement, which is why I was glad I got to hear Francis in India.
Francis shared an excellent message at the General Assembly in India, it was a time to get to know him just a little more through that. The message was impacting to me, part of it was centered around the scripture from 2 Chronicles about the glory of the Lord filling the temple. Awesome!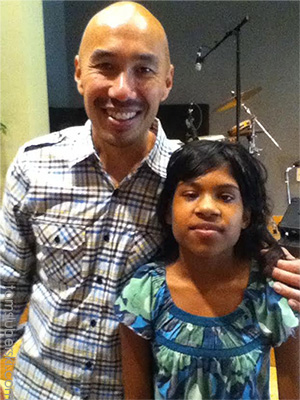 It's always a little different meeting the person who you only read their books or watched videos of them. Both in message and technically I had always liked how Francis' materials were handled on the web. His web sites were always done really well. In fact I modeled the Revolution In World Missions web site after the Crazy Love web site, as they did a great job integrating videos to further bring the chapters to life.
During early 2014 I led our web team through Francis' book Erasing Hell. It was challenging going through a book that presented some tough questions, yet I think we all benefited from it.
In looking back at this encounter, I was blessed to meet someone who was genuine in their faith and learn a little more about them, even if it was only for dinner together.
Much like the missionaries I met, Francis is the real deal. Though we walk in different circles, some on the front lines, like the missionaries and some in other areas. I believe the Lord desires for us to shine bright and speak truth no matter where He places us.


P.S. My hat goes off to all the students at the Believers Church Theological Seminary who labored intensely to prepare for 6,500 people. They did a great job as they toiled in the rains of South India and all that comes with preparing for an event like this.


All photos are from my personal collection taken on my personal camera. The other photo is Francis with my first daughter.