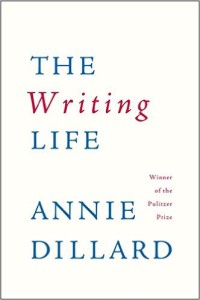 My blog posts are my adventures in writing, they are similar in a way to my explorations in composing music. I have been studying and playing music much longer than writing, but over these last few years I have come to love the art of writing. A book that has been an inspiration to me is The Writing Life by Annie Dillard.
If you have not read it, I highly recommend it. Below are a couple of my favorite quotes from her book. Take note, it is not a book on writing technique, a musical analogy to the book would be like a musician listening to Kind of Blue by Miles Davis. I hope you enjoy my posts, though some of them may be solely focused on music.
How we spend our days is, of course, how we spend our lives. What we do with this hour and with that one, is what we are doing.
There is no shortage of good days. It is good lives that are hard to come by. A life of good days lived in the senses is not enough. The life of sensation is the life of greed; it requires more and more. The life of the spirit requires less and less; time is ample and its passage sweet. Who would call a day spent reading a good day? But a life spent reading — that is a good life.